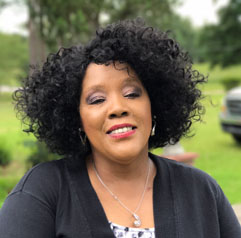 Dora L. Ridgeway
Vice President of Corporate Administration
As Vice President of Corporate Administration, Dora is responsible for the Company's Human Resources and Property Management departments' administration and management. Dora possesses over twenty years of experience in the construction industry, specializing in financial controls and administration, office and property management, and customer service. Dora is a graduate of The University of Southern Mississippi with a Bachelor's Degree in Psychology and Family Studies. Also, while attendance at Southern, she received various academic achievement awards. She also holds a Master's degree in Psychology from the University of Phoenix.
Through her position as Vice President of Corporate Administration, Dora is also responsible for the corporate and executive level management and administration of all Company-owned and leased office spaces, materials warehouses, and equipment yards. She holds executive authority in hiring managers, employees, personnel, and independent contractors and is responsible for its oversight and development, as mentioned earlier, personnel. To ensure the effective management of the departments and activities that fall under her scope of responsibilities, she implements quality control systems for the company. Dora accomplishes this through the development, outsourcing, or administration of Ridgeway Homes' systems of performance reviews and evaluations of all departments, personnel, and work systems and activities to ensure the effectiveness and efficiency of all departments all other items that fall under her management. Dora's position as Vice President of Corporate Administration is a significant addition to the company's strategic development. It allows Ridgeway Homes not only to meet but exceed its short-term goals. Dora's performance has also assisted Ridgeway Homes in maximizing the efficiency of the sales and construction process and timeline and has allowed o of cash flows and optimizing the sales process's efficiency.
Outside of the office, Dora is an active member of her community, where she is a Deaconess of New Hope Baptist Church and is a member of the choir and the Mission Board. Dora is married to J.W. Ridgeway, Sr., and is the mother of two children, John and Yarmesia. She also has two grandchildren, Dalton and Meagan, and two grand-dogs she loves to spend time with as much as possible. Dora's hobbies include singing, traveling, gardening, fishing, traveling, and playing with her two grand-pups.