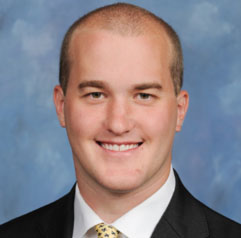 Witt Fortenberry III
General Counsel
Mr. Fortenberry joined Ridgeway Homes to help attain the vision of our company, while practicing law in the private sector and government sectors. Prior to being a private practicing attorney, he was the Assistant District Attorney for the 13th Circuit Court district of Mississippi.
He has managed corporate, limited liability company issues, and regulatory matters for The Ridgeway family of companies and affiliates since his entrance into his private law practice.
Mr. Fortenberry's prior legal experience has been in business and contract matters, criminal prosecution, and civil litigation. His primary role with of organization will place him as an integral part in the formation and operation of limited liability companies, choices of business formation types, reviews of construction contracts, real estate leasing contracts and claims collections.
While in Oxford, MS Witt received his degree in Business Administration from Ole Miss in 2011. Then he entered law school and interned in the Jackson, MS District Attorney's office while attending the Mississippi College School of Law. He Received his Juris Doctorate in 2014 and was admitted to the Mississippi state bar prior to his educational commencement. He is a member of The First Baptist Church of Mendenhall where he is an active member.